Custom Covered Porches in Atlanta – Where Elegance Meets the Outdoors
At Perimeter Remodeling, we specialize in creating outdoor living spaces that you will be able to enjoy for many years. Custom covered porches are the perfect addition to any home, a space where you can sit and relax or entertain your friends and family. If you're planning to add a covered porch to your home in the Atlanta, GA area, call Perimeter Remodeling today!
Popular Covered Porch Designs
Chances are when you think of a porch in the South, you picture a sweeping wraparound porch. The trope has persisted for good reason: a classic wraparound (sometimes also called a "farmer's porch") remains one of the most popular porches today.
Another popular design for front porches in the Atlanta area is a Cape Cod porch, often featuring a few white columns and often a mixture of covered and uncovered porch sections, covering the entire front of the house.
When it comes to custom covered porches, there are so many different possibilities. You can keep it simple if you prefer – a place for a few chairs, where you can sit and watch the sunset or enjoy a quiet conversation. Or you can decide to go all-out, with enough space for a couch or a table, and extra features like a fireplace or a grill so you can host fun get-togethers.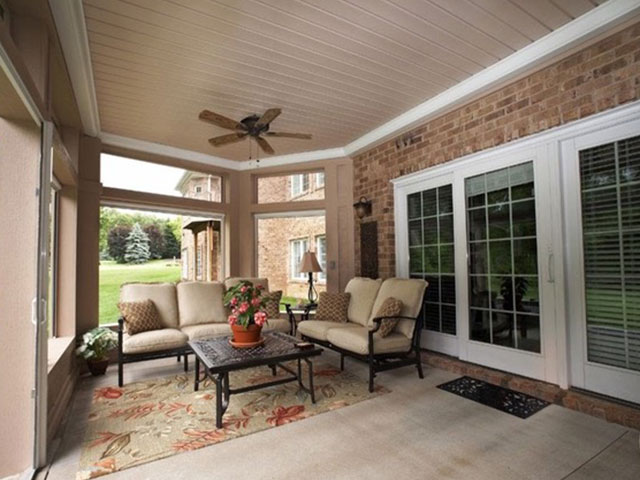 Benefits of a Covered Porch
Adding a covered porch (or expanding your current porch to include partial or total coverage) is a great way to add to your home's available entertaining, relaxing, and recreational space without being beholden to the whims of mother nature. Covered porches are also a great way to create the illusion of space (a major boost to curb appeal!).
By matching the roofline of your home to your custom porch expansion, you'll swear your covered porch builder snuck extra square footage in when they added the roof.
Things to Know When Building a Covered Porch
In addition to finding the right contractor, there are a number of things that you want to be sure you fully understand before the project commences. Here's a look at some of these key considerations:
Is the porch going to be constructed in the front or the back of the home?

How do you intend to utilize the porch?

Do you want a conventional porch or a covered screen porch?

Do you want add-on features, like a fireplace, ceiling fans, etc.?
And perhaps most importantly, know what your budget is and what you can afford to spend on such a project.
How Much Does a Covered Porch Cost?
 Depending on your end goal, covered porch additions can cost anywhere from under $5K to north of $25K. If your goal is to turn your existing back patio or front steps into a portico or similarly styled covered porch, you're likely to be at the lower end of the national average range. Those wanting extensive renovations to existing structures or more expansive coverage (e.g., a spacious wraparound porch with multiple fans) may find themselves needing a comparably expansive budget.
Does a Covered Porch Add Value?
 Custom porches and expansions add an average of 84% return on investment for most homeowners — a significant boost to your home's value. Given how temperate the weather in the South can be most of the year, Atlanta area homeowners can expect a hefty increase in their home's valuation after refreshing their homes with custom porches.
At Perimeter Remodeling, we offer 6-month or 12-month no-interest financing for every remodeling job we do. We're fully licensed, bonded, and insured, and we've been accredited by the Better Business Bureau since 2002. We have the skill and experience to get your project done right!
Reach out to the custom porch builders atlanta homeowners have trusted for decades. Call Perimeter Remodeling at (770) 333-8174 to get your free consultation and start designing your custom porch addition today!
Questions to Ask a Covered Porch Contractor
There are a variety of reasons why it makes sense to add a covered porch to your property — but the path to that dream porch all starts with working with the right contractor.
How can you determine if you're working with the right contractor to bring your porch from concept to reality? Here's a look at some of the key questions you should be asking before you sign any sort of work order:
Can you help me design a porch that would look good for my home?
Porches typically aren't one-size-fits-all. That said, why would you work with a contractor that can't meet your specific needs when it comes to building your porch. When you work with Perimeter Remodeling, we'll work with your specific home style, your requirements and your budget to custom design and build the right porch for your home.
Are you licensed and insured?
If any contractor you're vetting doesn't give you a straight answer on this, chances are they're not — and if they're not, you don't want to be doing business with them.
How soon can you begin and how long will it take?
Generally speaking, quality contractors have some sort of backlog that they'll have to work through first before they can get to your project. If they don't have any backlog and are eager to start your project as soon as possible, it could be indicative of professional and workmanship issues that are preventing them from securing more work.
Regardless of the quality of the contractor that you're working with, it's also good to have a general idea of when a contractor will be able to begin your work and about how long it will take just for your general planning purposes.
Can we speak to a reference that worked with your firm in the past?
Quality contractors have Rolodexes full of satisfied clients that they should be willing to connect you with. If they don't or appear hesitant to provide you with any previous customers, it could be a sign that the work they do isn't without its issues and problems along the way.
What's your preferred method of communication?
Communicating with the project manager is one of the more important aspects of the job. It's important to know who and how to best connect if you have questions or need an update on work — and vice versa. Be sure to know this information so you can speak when it's necessary and aren't playing phone tag or waiting for a response.
Contact Us For A Free Estimate Today!
"(Required)" indicates required fields