Custom Bathroom Remodel Contractor in Atlanta
"*" indicates required fields
Your Contractor for Bathroom Remodeling in Atlanta!
Ready to transform your outdated bathroom into an inviting and relaxing oasis? Our team at Perimeter Remodeling is here to help! We know first-hand just how much of a difference a remodeled bathroom can make in a home. In fact, according to Zillow, a bathroom remodel offers one of the largest returns on investment of any home improvement project. Meanwhile, you can enjoy your refreshed bathroom space and the beauty it adds to your home.
Our Bathroom Remodel Services
Perimeter Remodeling provides a variety of bathroom renovation services. Whether you're looking for a new bathroom sink or want to update your showerheads, we've got you covered.
Bathtub Replacement
If you're looking to upgrade your bathroom space by replacing your old bathtub with a new one, we're here to help. We'll make sure your tub is properly installed and sealed so it will last for many years to come. We install bathtubs made from a variety of materials including acrylic, fiberglass, and porcelain. We'll work with you to determine the right custom tub for your needs and budget.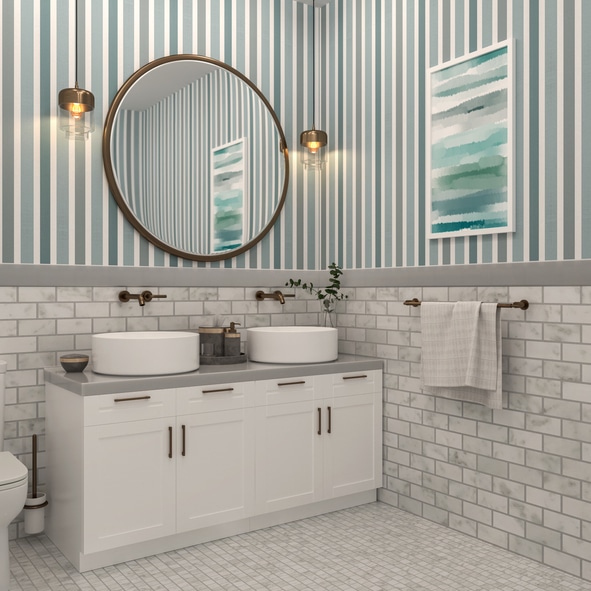 Shower Replacement
If your shower is old and outdated, replacing your shower may be a good option! Custom showers are great if you're looking to customize the colors, base, surround, and style of your bathing space. If you're on a budget, shower inserts are prepackaged kits with fewer customization options but can still give you that refreshed look. Whether you're looking to upgrade your shower-tub combo or even install a new walk-in shower, Perimeter is here to help.
Tub-to- Shower Conversions
Tub to shower conversions can be a great way to improve the function of your bathroom and is a popular choice for today's homeowners. Showers are typically more efficient than tubs, they are lower maintenance, and they can provide a welcome respite after a long day.
However, tub to shower conversions can also be expensive and time-consuming, so it's important to do your research before making any decisions. Consulting with Perimeter can help you determine if this type of bathroom remodel is right for you.
Walk-in Bathtubs
Walk-in bathtubs are becoming increasingly popular, especially among older adults and those with mobility issues. Walk in tubs offer many benefits over traditional baths, including easy accessibility, increased safety, and improved hygiene.
These tubs can be installed in any bathroom and come in a variety of sizes and styles to suit any need. Modern walk-in bathtubs are also more comfortable than traditional tubs, with roomier seats and built-in jets that provide a relaxing massage.
Bathroom Flooring
Looking to make a large bathroom impact? With a custom bathroom floor remodel, you'll have many different bathroom flooring options to choose from. The most important thing to consider is that bathroom floors see a lot of traffic and moisture, so durability and slip-resistance are key factors to consider.
Porcelain tile is a popular bathroom flooring material because it's waterproof and easy to clean. Wood-looking vinyl bathroom flooring is another popular option due to its affordability and wide range of styles. By consulting with Perimeter we can help you determine the right bathroom flooring for your style and comfort.
Bathroom Vanities
Replacing your bathroom vanity is one of the easiest ways to freshen up your bathroom. Bathroom vanities are also easy to customize. Are you looking for something more traditional or modern, or are you looking to increase the vanity storage? The options are endless.
There's also a variety of materials to choose from like particle board, wood, and rubberwood. Consult with Perimeter Remodeling to compare prices and materials so you get the vanity best suited for your needs.
Bathroom Accessories
There's more to a bathroom than just the basics. Bathroom accessories and hardware can give your space the finishing touch it needs and make it more functional. Popular bathroom accessories include faucets, light fixtures, towel bars, soap dispensers, and mirrors. With so many choices available, we can help you choose the bathroom accessories that fit your budget and style.
How Long Does a Bathroom Remodel Take?
Most bathroom remodels take between three and six weeks, depending on the size and scope of the project, while some can be done in one day. However, there are a few factors that can impact the timeline. For example, if you are planning to move fixtures or make major changes to the layout of the bathroom, it will take longer than if you are simply updating the finishes. Additionally, the availability of materials and contractors can also affect the timeline. However, even a small bathroom remodel can make a big impact on your daily life, so it is worth the time.
Why Choose Perimeter Remodeling?
We understand that you have a choice when it comes to bathroom remodeling companies in the Atlanta area. Perimeter Remodeling takes a great deal of pride in being the area's trusted source for custom bathroom designs. As an accredited and A+ rated business with the Better Business Bureau for nearly 20 years, we strive to build trusting relationships with our clients that last far beyond when the job is completed. We also realize that a bathroom remodel can be a major disruption to your household, which is why we do our best to work around the needs of your family at all times.
Contact Us
If you're interested in transforming your bathroom, Perimeter Remodeling is here to turn your vision into a reality. It all begins with your free, no-obligation estimate.
Schedule yours today
by contacting our team at (770) 333-8174. We'd be happy to visit your home, get a better feel for what you're looking to have done, and provide you with options that suit your vision and budget. We look forward to helping you realize the bathroom of your dreams!
Get a Free Estimate Today!
"(Required)" indicates required fields