Exterior Home Painting Services in Atlanta 
"*" indicates required fields
Does your home need a fresh new look, a change of color… or just a new coat of paint? Whatever your reason for needing exterior painting some homeowners see this as a task they can do themselves, but the truth is that it's hard work and takes a lot more time to do it by yourself. Perimeter Remodeling will be happy to do it for you with the same professionalism and attention to detail we bring to all our work.
For all your exterior painting jobs in Atlanta, GA and nearby communities, call Perimeter Remodeling!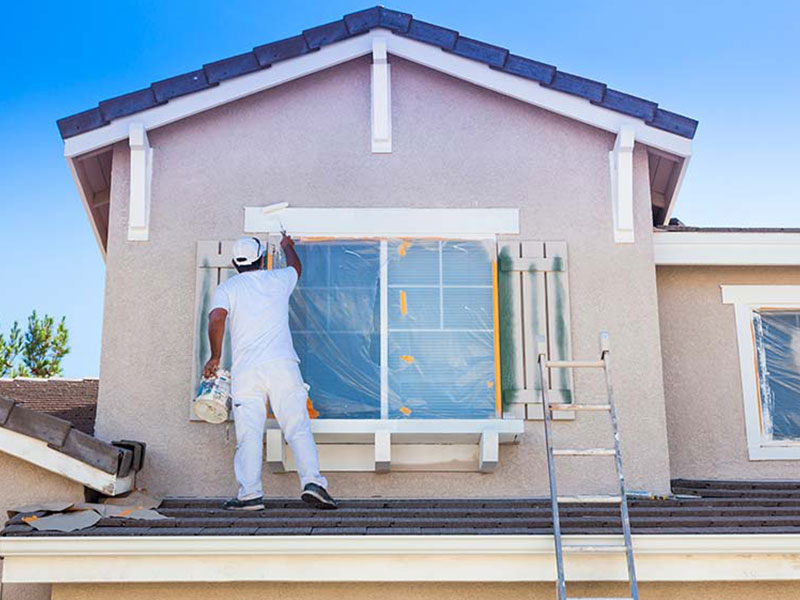 The Exterior House Painting Process
A good painting contractor should be able to walk you through their prep plan and painting process. That plan should include most or all of the following steps:
Pressure Washing
Without a comprehensive deep clean of your home's exterior, you can't have a quality paint job. Pressure washing ensures any excess dirt and debris is removed and readies your home's exterior for the next phases of prep work.
House Exterior Repairs
Once dirt, mildew, loose paint and other debris are fully removed, most homes need some level of repair work before painting can begin. This can range from puttying nail holes to sanding rough edges to repairing or replacing damaged or rotting siding and trim.
Caulk Trim
Speaking of trim repairs, a good prep team pays attention to the details – such as ensuring all gaps between house and trim around the doors and windows are caulked and smoothed away. This is extra important if your house has mixed materials, such as brick and siding, which need some caulk everywhere different materials meet.
Prime Stains
While your whole house likely won't need it, any areas with clearly visible stains or obvious wood knots will probably need to be prepped with at least one layer of a good stain-blocking primer.
If you've officially decided on paintint your home's exterior you may now wonder, how do you pick a good color? And how much does the color matter in the long run?
Does a Fresh Coat of Paint Increase Home Value?
Unsurprisingly, that extra boost of curb appeal for you can also mean a decent ROI if you're planning to sell. In fact, exterior house painting is one of the most cost-effective renovations you can make, with consumer reports showing a national average value increase of approximately $4000 – that's a 55% ROI for exterior paint jobs.
Exterior Paint Colors that Increase Home Value
So, which colors are most likely to net you that 55% return on your exterior paint investment? A recent Opendoor survey indicated the most popular colors for home exteriors are shades of gray (30%) and beige (26%). White exteriors are also very trendy right now, especially when contrasted with a warm black shade on your door and shutters.
How Often Should You Paint Your House Exterior?
Depending on the surface material and quality of the last paint job (and how well you or the previous owners have maintained it), most house exteriors need to be repainted every five to ten years. Wood surfaces typically need a refresh every three to seven years; aluminum siding averages five; stucco lasts approximately eight years between paint jobs; and brick wins out with an average of ten to twelve years per paint job.
Regardless of the color you choose, we're confident that a free consultation with the experts at Perimeter Remodeling will get you started on the path to the home makeover of your dreams. Don't wait – reach out today and find out why Perimeter Remodeling is one of the most popular and most trusted names in exterior painting atlanta ga residents rely on time and again. Call Perimeter Remodeling at (770) 333-8174 or email info@perimeterremodeling.com to get started!
"*" indicates required fields
How to Know When You Need

Exterior Painting
If you don't remember (or just plain don't know) when your house was last painted, there's a good chance it's overdue for a refresh and restore. While exterior paint is often viewed as a cosmetic process meant to enhance curb appeal, the truth is that your home's exterior paint does a lot more in terms of damage prevention than most homeowners realize. Depending on environmental factors and the exterior surface material of your house, the exterior paint may need to be refreshed as often as every three to four years. With the sun and humidity in Atlanta and the Southeast, it's a safe bet that your house's exterior paint is not doing as much as it could to protect your home from the wear and tear that so much sun and moisture causes on a daily basis.
On average, you should expect to repaint your home exterior every 5-10 years. You can expect it to last longer with regular upkeep and, of course, when you hire an experienced contractor who uses quality materials and doesn't skimp on prep. In general, here are some guidelines for repainting based on the exterior surface:
Wood surfaces should be repainted every three to seven years.

Aluminum and fiberglass siding should be refreshed every five years or so.

Stucco house exteriors need repainting every five to six years.
Questions to Ask an

Exterior Painting

Contractor
What is included in my painting estimate?

A reputable painting contractor will provide you with an

exterior painting

estimate that is clear, comprehensive, and fully itemized. You should know exactly what needs to be done, what materials will be used, and how much it will cost.

Where can I find reviews and feedback on your work?
What surface preparation do you recommend?

Typically, a thorough preparation of the exterior surface includes the following:

Sand, Scrape, and Scrub: Any loose or peeling paint should be completely removed, and your house should be thoroughly washed to prevent any dirt and debris from getting trapped under that fresh coat of paint.

Prime and Seal: This step should also include careful attention to protecting everything you don't want painted. Make sure you ask your contractor how they protect your landscaping, too! This is also when any repairs will likely be done, like sealing cracks or refinishing uneven surfaces.

What kinds of materials do you use?

Quality materials go a long way to extending the life and durability of your painting – and it doesn't only apply to what brand of paint you use! It's not uncommon for minor to moderate repairs to be part of the

exterior painting

process, so the quality of materials such as caulk is just as crucial for ensuring a long-lasting and beautiful

exterior painting

.
How Do I Get Started in the Process with Perimeter Remodeling?
A professional (and free) consultation, of course! If you need exterior painting in the Atlanta, GA area, reach out to Perimeter Remodeling for more info on how we can help you refresh your home and ensure the continued protection of your home's exterior.
Exterior Painting Services in Altanta We Offer
Painting can be a hassel if you do it all on your own. Here at Perimeter Remodeling, our exterior painting services extend beyond more than just the surface of your home. Some other exterior surfaces we paint include: