Custom Windows in Atlanta
"*" indicates required fields
A custom window is simply a window that is made to order, meeting the customer's specifications for size, shape, or other design elements. Give your home an elegant look by installing a custom window of your own design!
Types of Custom Windows
Custom windows can take many forms, with configurations as varied as your style preferences and individual needs. That said, there are some configurations that tend to be more popular with homeowners, with customizations varying less across style, and more across details such as material and functional elements. For example, two homeowners may both have bay windows, but one may feature dual-pane casement windows while the other is satisfied with a picture window.
Here are some of the most common styles of replacement windows.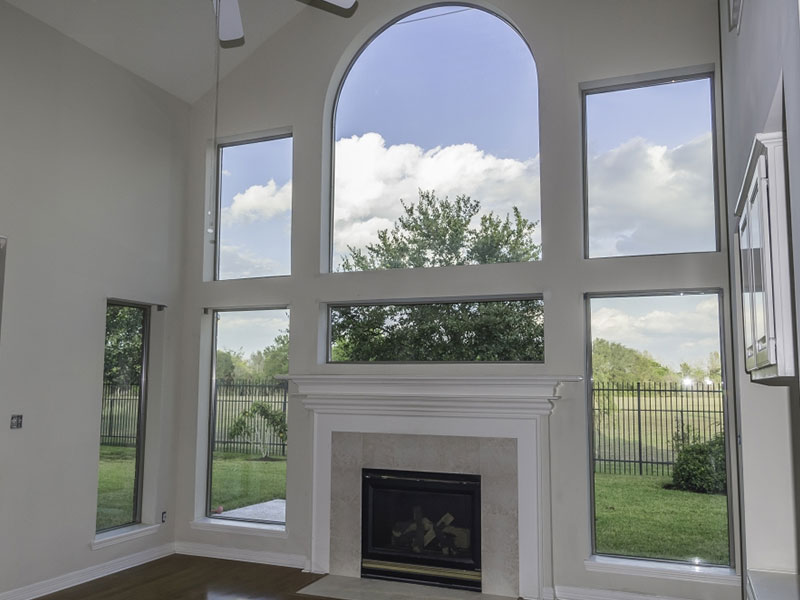 Double Hung Windows
Double hung windows feature two window sashes, opening vertically from both the top and bottom of the window. These windows are the most common replacement windows available (followed by single hung windows) and tend to be among the most affordable. Additionally, they come in a variety of sizes and materials, which means they offer a wide range of customization options.
Casement Windows
Casement windows are typically rectangular with an uninterrupted pane of sheet glass, opening outwards via a side handle. They're increasingly popular because they offer some degree of the viewing ability found in picture windows with added ventilation capacity.
Picture Windows
Picture windows got their name because of the unparalleled views they offer. Like casement windows, they tend to feature one large sheet of glass, although they're usually square and much larger than a standard casement window. Additionally, most picture windows don't open (called 'fixed' or 'non-operable'), as they are designed to prioritize uninterrupted views and natural light capacity rather than ventilation.
Bay Windows
Bay windows are an increasingly popular choice for many homeowners, especially for living rooms and modern kitchens. These large windows have the lighting and aesthetic benefits of picture windows, plus the added bonus of additional seating: bay windows are designed to protrude from an exterior wall, creating a small interior shelf or bench with flat windows installed above it. The center window is usually fixed but is surrounded by angled side windows that can be casement or double hung windows that offer added ventilation functionality.
Why Choose Perimeter Remodeling for Your Custom Windows in Atlanta?
By now, it should be clear that replacement windows – especially custom ones – should be selected, designed, and installed in close consultation with experienced home professionals.
Especially for those interested in potential window replacement, Atlanta custom windows experts are a must. In a region with so many old neighborhoods and historic homes, local experts like the home professionals at Perimeter Remodeling are uniquely suited to assess your home's needs and individual characteristics while keeping you on budget. Regional expertise means we can help you add to your house's vintage character without subtracting modern energy efficiency.
If you're still wondering why Perimeter Remodeling should be your home professionals of choice, don't just take our word for it – check out some examples of our work in the blog, gallery, and throughout our site. Better yet, reach out to Perimeter Remodeling today for a free consultation with one of our seasoned experts and get a firsthand look at why Perimeter Remodeling is the top choice for window replacements in Atlanta, GA and other home renovation projects.
Call Perimeter Remodeling at
(770) 333-8174
or email
info@perimeterremodeling.com
. We have an A+ rating from the Better Business Bureau for our superior customer service, and we offer 6-month or 12-month no-interest financing. A beautiful new window is the perfect touch to make a home look unique and elegant.