Custom Deck Builders in Atlanta
"*" indicates required fields
Whether you would like to build a new deck on the back of your house or to repair or update an existing deck, we have the quality wood decking, cedar, and pressure treated wood deck materials you need to get your project done quickly and efficiently. Our wood decking resists rot and decay and is easy to maintain, so you will enjoy your outdoor living space for years to come.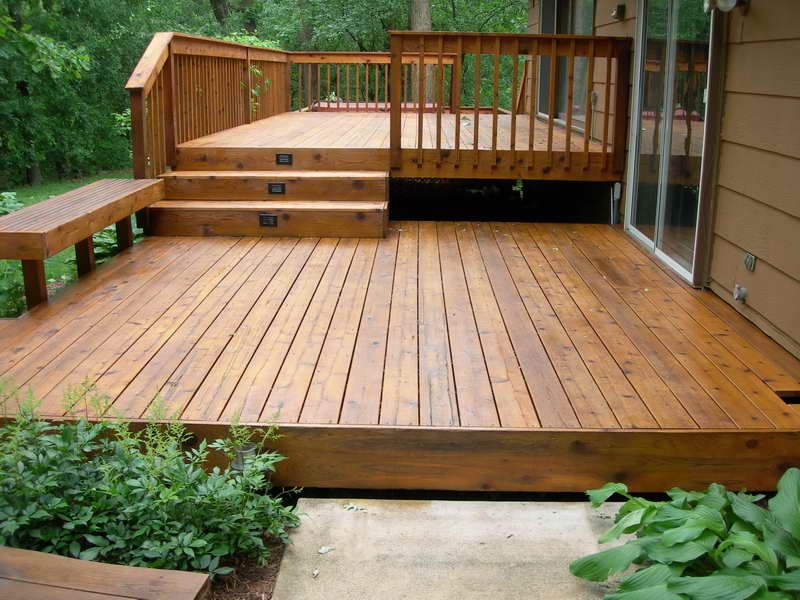 Benefits of Decks
Adding a deck to your home (or even replacing an old or less-than-ideal one) offers many benefits. For one, it offers you a more convenient and enjoyable way to spend more time outside enjoying the beauty of nature. After all, Atlanta is known as the city in the forest, so why not spend some time enjoying that green space? Additionally, adding a deck offers significant added value to your home, as well as increases the size of your living (and lounging) space. Moreover, decks are relatively inexpensive, adding both value and square footage without breaking the bank.
Popular Deck Materials
Most residential decks are constructed of one of three materials: wood, composite, or PVC. Naturally, each of these materials comes with its own pros and cons, and determining the best fit for your home needs and aesthetics is one of the many benefits of working with professionals.
Wood
Pros: Durable and beautiful, wood offers a gorgeous natural aesthetic and high value.
Cons: Depending on the kind of wood you choose, wood can be one of the more expensive and high-maintenance materials you can buy. Natural, untreated lumber like cedar can sometimes be as much as $20/square foot! Pressure-treated lumber, on the other hand, cuts costs and maintenance time significantly compared to untreated.
Composite
Pros: Composite decking offers a wide range of color and finish options, and can last as long as 25 years with minimal maintenance.
Cons: Because there's such a wide range, costs and quality can vary widely with composite materials, so adequate research is critical here.
PVC
Pros: PVC is virtually maintenance-free, with almost none of the vulnerabilities of even pressure-treated wood. It also provides a wider range of color options. Additionally, PVC tends to be a much lighter and more resilient material.
Cons: If you're concerned about costs, PVC tends to be on the higher end of the spectrum, costing more per square foot than even some quality lumber. PVC is also plastic-based, so unlike other synthetic materials (e.g. composite), the carbon footprint can be significantly higher without offering a higher quality deck board in return.
Why Hire a Pro for Deck Installation in Atlanta
Even the most simple search for DIY deck-building reveals how tricky (and expensive!) this approach can be when installing a deck at your home. More often than not, even a replacement deck may become a more customized project to bring the deck design of your dreams to life. For custom decks Atlanta homeowners can be proud of, look no further than Perimeter Remodeling. Reach out today for a free consultation and find out why Perimeter Remodeling is the deck contractor Atlanta trusts most.
 Things to Know When Searching for Atlanta Deck Builders
Browsing Atlanta deck builders? Know that not all are the same, from the types of wood and other materials that they offer and use on projects to their level of customer service and commitment. And while the end goal of a beautiful new custom deck may be reached regardless of whom you work with on the project, the process and experience can differ greatly based on the firm you hire. It's why you want to do your homework on Atlanta deck builders before making a decision.
5 Questions to Ask Your Atlanta Deck Builder
It's not always easy finding a good deck builder, but it's important to find the right partner on your custom deck project. Think about it like this: You're investing in your home and the return on this investment is likely to largely be dictated on the quality of the work performed. That said, it makes sense to think of this arrangement as more of a partnership. It's why it makes sense to put in the extra work searching Atlanta deck builders for the right one. Here's a look at five questions you should be asking your deck contractor during the vetting process:
1. Are you licensed and Insured?
Every builder shouldn't just be properly licensed and insured, but they should be more than willing to show you these qualifications. Licensing is important because it will ensure that work is performed properly and to code and insurance means you won't be liable for any damages that may be incurred during construction. If any contractor you're thinking of hiring doesn't want to show you these qualifications, be wary of working with them.
2. What is your deck-building experience?
Any good deck contractors in Atlanta should have a ton of examples to show you to demonstrate the work that they've done for other customers. You might even ask if you can contact one of their former customers to get more information about what it was like working with the said contractor and the quality of the finished project.
3. Can you help me build the deck I want?
Good deck contractors should listen to what you're hoping to have built and then craft a custom deck plan based on your wants and needs. They should also serve an advisory role when it comes to selecting the right materials and any additional deck features.
4. What is your preferred method of communication?
It's important to stay in the loop about the status of your deck project, whether you have questions for the deck builder or if the deck builder needs to touch base about something with you. Be sure to know what the best way to get ahold of the contractor is and how responsive the company is.
5. How long will the project take?
Once you've settled on building a new deck, be sure to know how long the project will take, when it could start and what payment types the contractor accepts.
How to Plan for a Custom Deck
The end result of a beautiful new deck is more than worth the days or weeks of construction that's necessary to build it. Here are some tips on how to plan for a new custom deck:
Have an idea of what materials you want and what they cost.

Know what type of functionality you want.

Set a budget.
Be patient, as decks can take time when it pertains to pulling necessary permits before construction can begin.
Leverage the experience and expertise of the builder that you're working with on the project.
What to Expect When You Hire Perimeter Remodeling
Perimeter Remodeling provides the expertise and excellence in custom decks Atlanta homeowners expect when choosing a contractor. Like any reputable contractors, we're licensed and insured, and ready to show you examples of work we're proud to have done for other homeowners. Want more info? Reach out today and ask how we earned our reputation as one of the best contractors for custom decks Atlanta residents can rely on.
"*" indicates required fields