Roof Replacement and Gutter Installation in Atlanta
"*" indicates required fields
Perimeter Remodeling is the foremost authority on roof replacement in Atlanta as well as gutter installation and
related services
. Our team of specialists provides fast, courteous service and meticulous workmanship. We'll replace your roof to the highest standards of quality, using only the finest materials. When you hire Perimeter Remodeling, you can be confident that your roof will last for years and years.
If your roof has suffered from storm damage and needs to be replaced, then hiring skilled professionals to take care of it for you is the best course of action. We'll get it replaced quickly and efficiently to ensure that it protects your home for years to come.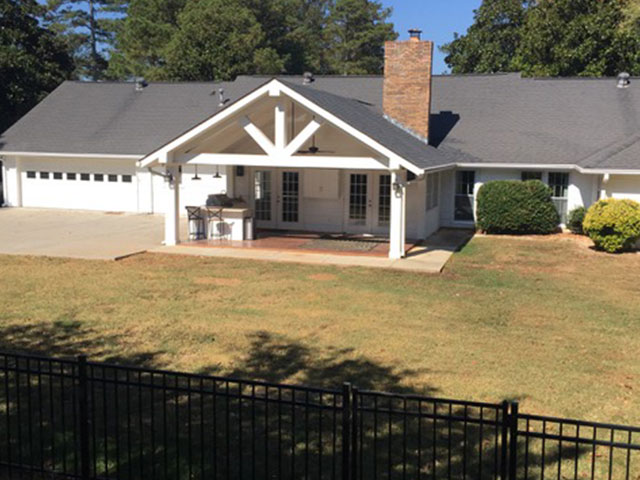 Roof Replacement Atlanta: How do you know when it's time for a replacement?
Want to raise your roof knowledge? We've got you (and your home) covered. Unless you've noticed a major leak or experienced storm-related damage (hurricane season, anyone?), you probably haven't given much thought to when your roof may need replacing — let alone how to tell when replacement may be needed. Given its popularity, your roof is probably constructed from asphalt shingles. This ubiquitous roofing material is reasonably durable and extremely economical, but it does need to be replaced every 15-20 years.
There are several signs that it may be time to replace your roof. If you notice any leaking or water damage, it's definitely time for a new roof. You should also keep an eye out for any missing, cracked, or loose shingles. This can be caused by weather damage or simply age, but either way, it means that your roof is no longer protecting your home as well as it should. If your roof is more than 20 years old, it's probably time for a replacement as well. If you see any daylight coming through your roof, that's another sign that you need a new one. If you're not sure whether you need a new roof or not, you can always consult with a professional roofing contractor. They'll be able to assess the condition of your roof and let you know if it needs to be replaced.
Although homeowners can be hesitant to do a full roof replacement in favor of a spot repair, depending on what needs repairing and the overall age of your roof, a full replacement can actually be a much more cost-effective option, especially in terms of bang for your buck. Roof replacement is a must if you notice:
Excessive Moss Buildup
Curling Shingles
Chipped Bits of Shingle and/or Tar in your Gutters.
Noticeable Sagging (If you see sagging, contact a professional immediately)
If you're seeing any of these signs, it's important to contact a professional roofer to assess the situation and determine if you need a new roof. Ignoring these signs can lead to serious damage to your home down the line.
The Crash Course on Gutter Installation Atlanta Residents Never Knew They Needed
Speaking of gutters, when was the last time you cleaned, replaced, or even really considered yours? As mentioned above, those of us in the Southeast are no strangers to the damage hurricane season can bring. Just as it affects your roof, stormy weather (even a regular summer thunderstorm!) can be a real drain – or, more likely, a real clogged drain – on your gutters' functionality. Gutters actually support the lifespan of your roof and home's exterior by diverting water away from the fascia and even the foundation of your home, limiting the likelihood of significant (and expensive) water damage. Without gutters, rainwater and the detritus from heavy winds (e.g., sodden leaves) will build up around your home, eroding the foundation over time.
Given the number of trees around most Atlanta homes and the humid climate, this damage can happen quickly and require extensive repairs to major sections of your home, from siding to roofing to the very foundation. As with your roof, gutters should be maintained (i.e., cleaned and repaired) regularly to make sure their important work isn't impeded.
Why Choose Perimeter Remodeling?
Because your roof and gutters play such a large and often expensive role in your home's structural integrity, it's essential to choose a roofing contractor you can trust with literally putting a roof over your head. Perimeter Remodeling is proud to serve the Atlanta area with a host of home repair and restoration experts. We'll be able to assess the condition of your roof and help you decide whether or not a replacement is necessary. Also, provide you with an estimate of the cost of the project. Keep in mind that the cost of a new roof can vary depending on the materials used and the size of your home. However, it's typically much less expensive than you might think. Reach out for a free consultation today!
Residential roofs generally need to be replaced every 20 years or so. If yours has reached the stage where it needs to be replaced, then it's especially important to have the work done by experienced professionals like the experts at Perimeter Remodeling. With our extensive experience, you can count on us to get the job done quickly, efficiently, and correctly.
In addition to providing exceptional roof replacement, we also offer a variety of related services, including:
Think of us as Atlanta's one-stop remodeling shop for clients with the most discerning taste. We offer 6-month or 12-month no-interest financing, we are fully licensed, bonded, and insured, and we've been accredited by the Better Business Bureau since 2002. We have the skill and experience to get your roofing repair or replacement project done the right way!