Wood Deck Builder in Atlanta
"*" indicates required fields
Wood decks offer a timeless look that is perfect for any outdoor space. Whether you're looking for an easy way to add character and charm to your outdoor living area or simply want the classic beauty of natural materials, wood decks are one of the projects that can truly transform your outdoor area.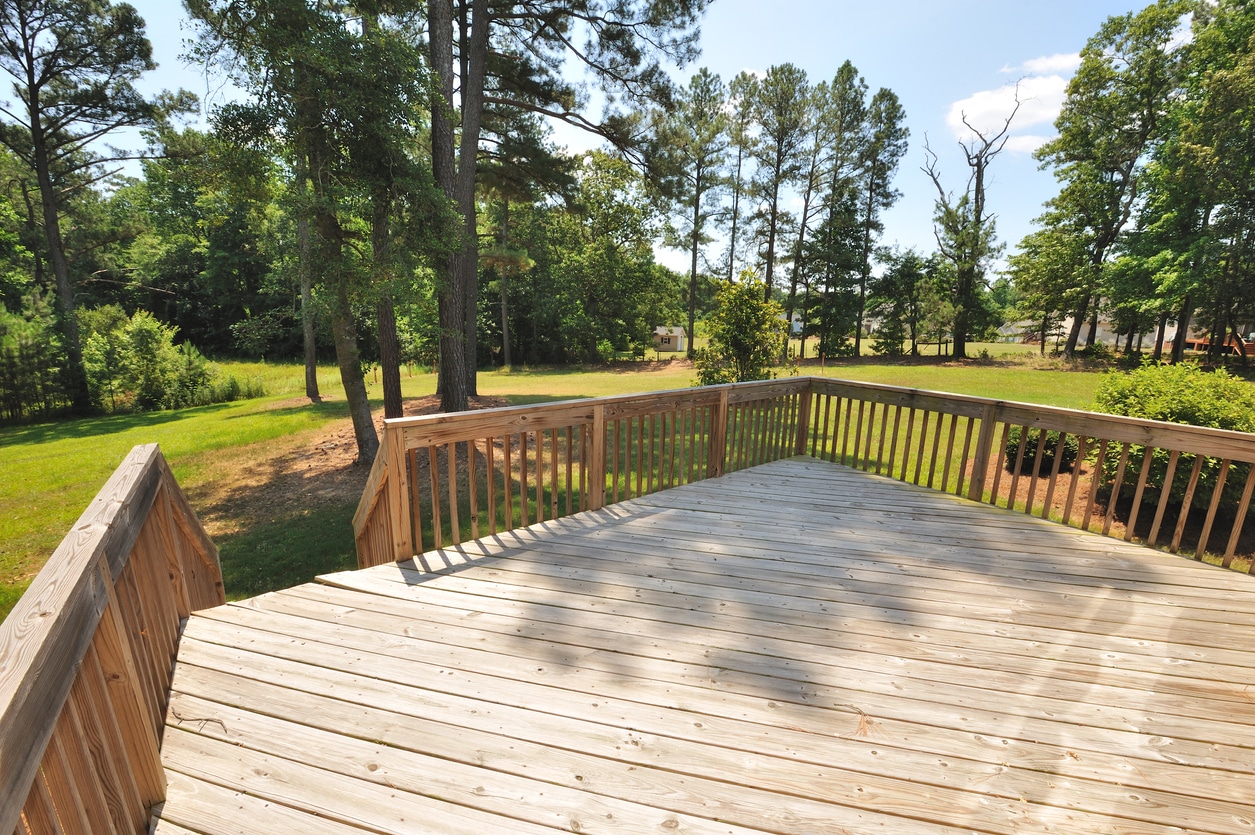 Types of Wood Decks
There are a number of different types of wood to choose from when it comes to building your deck. From softwood, such as pine and fir, to hardwood species like cedar and IPE, each type of wood provides its own unique benefits that can help you create the outdoor living space you've always wanted.
Softwood Decks
Softwoods are a great starting point for those who have limited experience with woodworking. They're strong, easy to work with, and often come at a lower cost than hardwood species. However, they are not as weather resistant as hardwoods and may require more upkeep over time.
Hardwood Decks
Hardwoods tend to be more durable and weather-resistant than softwoods, making them ideal for decking projects. They often require less maintenance and can provide a more luxurious look to your outdoor space. IPE hardwood specifically is known for its exceptional strength, and fire, bug, and water-resistance. However, they tend to be much more expensive than softwoods and may require additional care when working with them.
Benefits of a Wood Deck
Wood decks offer a number of benefits when it comes to creating the perfect outdoor living area. They provide an attractive, natural look that can easily add character and charm to any backyard or garden. Additionally, wood is a great insulator from heat and cold, making your deck comfortable all year round.
Another major benefit of wood decks is their ability to increase the value of your home. By installing a beautiful, well-crafted deck onto your property, you can dramatically increase its market value and potentially draw in more potential buyers down the line.
Wood Deck vs Composite
Wood decks and composite decks both offer beautiful outdoor living options, however there are some key differences that may sway your decision in one direction or another. Composite decking is made from a combination of wood fibers and plastic. This material offers many of the same benefits as traditional wood but often comes with an extended warranty due to its weather-resistance.
On the other hand, wood decks offer a timeless look and can be crafted into any shape or size for a personalized touch. Depending on the type of composite decking material chosen, both options can be more expensive.
Wood Deck Maintenance
Maintaining a wood deck comes with its own set of challenges. Depending on the type of wood chosen, regular cleaning and staining may be necessary to keep it looking its best and protect it from weather damage. To keep your wooden deck in tip-top shape, power wash it annually and reapply stain or sealer every two years.
Wood Deck Company in Atlanta, GA
With the right wood deck materials and tools, you can easily create a beautiful deck that will last for years to come. If you're looking for reliable and professional help with your wood deck project in the greater Atlanta area, Perimeter Remodeling is here to provide top-notch service. Our team of experienced contractors will guide you through every step of the process, ensuring that your deck looks exactly how you envision it. Contact us today to get a free estimate.