How to Enhance Your Outdoor Space with Custom-Quality Decks: A Comprehensive Guide
For many homeowners, a serene and inviting outdoor space is a must-have. And one of the best ways to achieve this is by investing in a custom-quality deck.
Decks can be built anywhere around your house, like your front porch or even above your pool. They're a great place to relax and entertain your guests.
But building a custom deck can come with a few challenges – from choosing the type of decking to complying with deck codes and standards.
If you want to have your deck custom-built, here are a few things to keep in mind.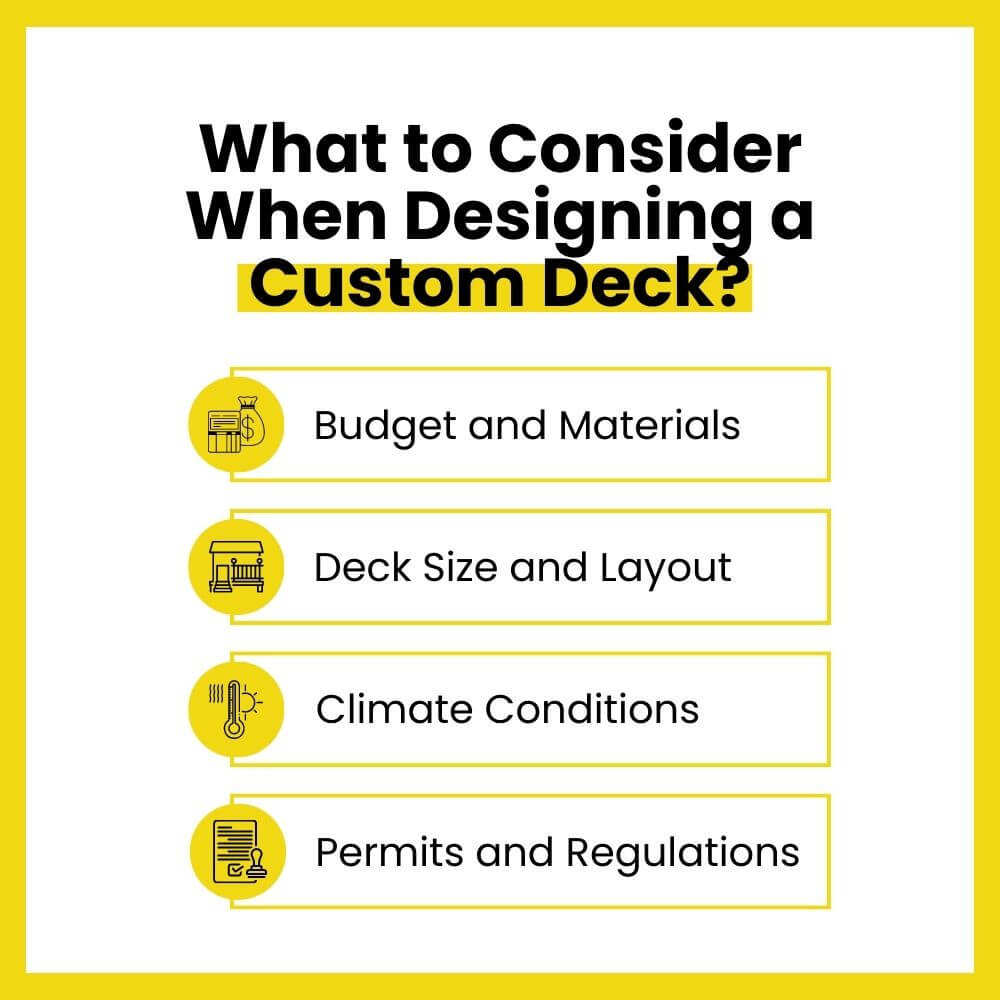 What to Consider When Designing a Custom Deck
Budget and Materials
Before starting your deck project, it's crucial to set a budget.
While custom decks do offer flexibility, choosing premium materials and complex designs can increase costs. You could be looking at anywhere between $7,500 to $45,000.
Long-lasting composite materials, for example, are more expensive than regular cedar or pressure-treated lumber.
That said, you can ask advice from experienced deck builders in your area. They'll help you strike a balance between your vision and budget constraints.
Deck Size and Layout
The size and layout of your deck will depend on the available space in your property. So, you need to assess its limitations before making any plans.
Let's say you want to build a custom deck in your backyard. But there's a giant oak tree right in the middle.
Instead of cutting it down, you can incorporate the tree into the layout. You can add cutouts and built-in seating around the trunk so there's enough room.
This way, your deck can seamlessly integrate with your outdoor environment (and you can comply with any zoning regulations around tree protection in your area).
Climate Conditions
The climate plays an important role in deciding which materials are best suited for your custom deck. For homeowners in the greater Atlanta area, intense heat and humidity require the use of durable materials.
A good option is composite decking.
Made of wood fibers and recycled plastic, this material is designed to last longer than hardwood options. Composite decks are more resistant to fading, rot, insect damage, and splitting.
But keep in mind that you'll also need to maintain your deck with regular cleaning and repairs.
Permits and Regulations
Securing the necessary permits is a critical step in any deck-building project. Local councils have specific guidelines to ensure the deck's safety and structural integrity. 
Going ahead without the proper permits can lead to fines or delays in construction.
By enlisting the services of a trusted deck builder, you gain an ally in the permit process. These professionals know the local building codes and can even handle the paperwork for you.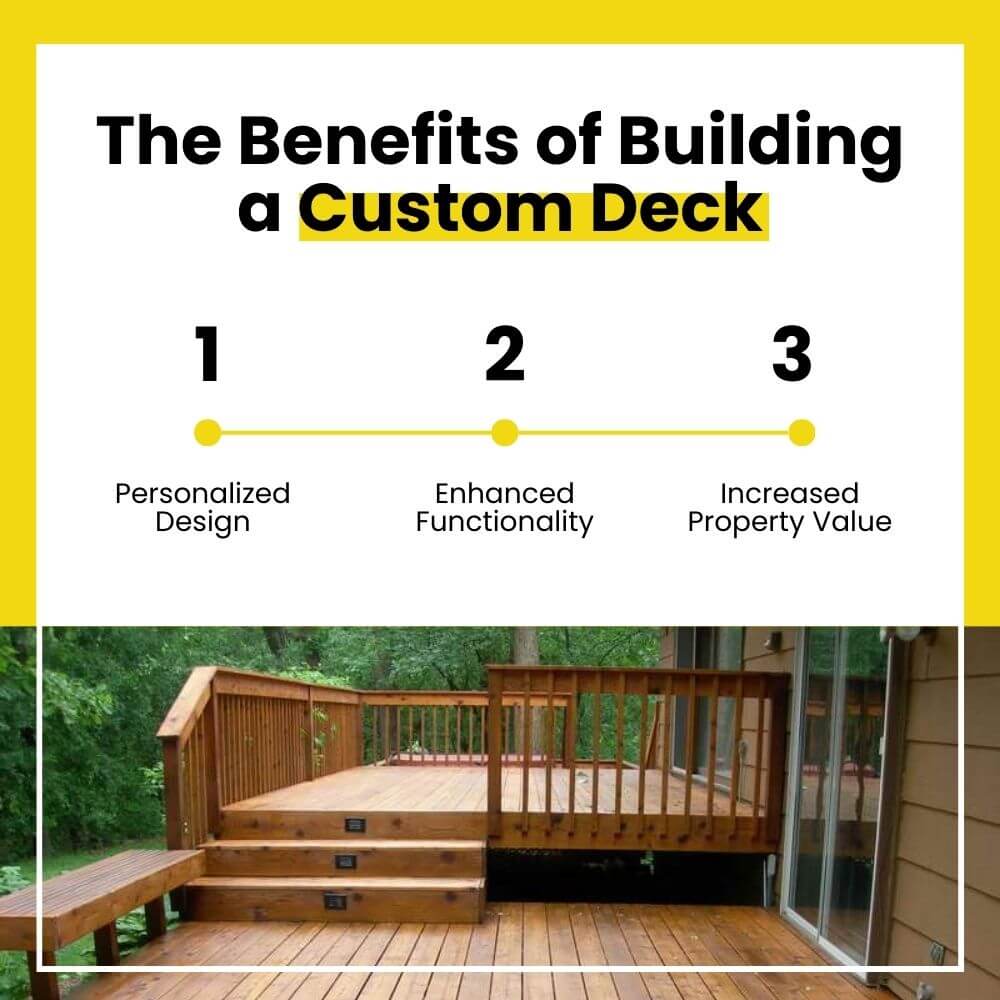 The Benefits of Building a Custom Deck
Personalized Design
An exciting advantage of opting for a custom-quality deck is that you can express your unique style and taste. 
You can choose to build your own deck or work closely with a professional deck builder.
While going the DIY route sounds fun, it can be extremely challenging. You'll need to buy special equipment and allot a chunk of your time to figure out how to start.
With an experienced contractor, you'll get expert suggestions on how to choose the perfect combination of materials, colors, and finishes that complement the overall architecture of your home. 
This personalized touch adds a sense of elegance and character to your outdoor space. Think of it like an extension of your personality as the homeowner.
Enhanced Functionality
A custom deck can be designed to cater to your specific needs and lifestyle. 
Whether you desire a cozy outdoor dining area, a spacious entertainment spot, or a secluded relaxation zone, you can tailor each aspect of your custom deck. 
In fact, there are plenty of deck-decorating ideas you can try out.
You can add features like built-in seating, fire pits, outdoor kitchens, and pergolas. These can transform an ordinary deck into a multifunctional, year-round outdoor living space.
Increased Property Value
In addition to the immediate benefits, custom-quality decks can boost the resale value of your property. Potential homebuyers are often drawn to well-designed outdoor spaces. 
A thoughtfully crafted custom deck is not only a selling point but also a sign of the overall care and maintenance of the property.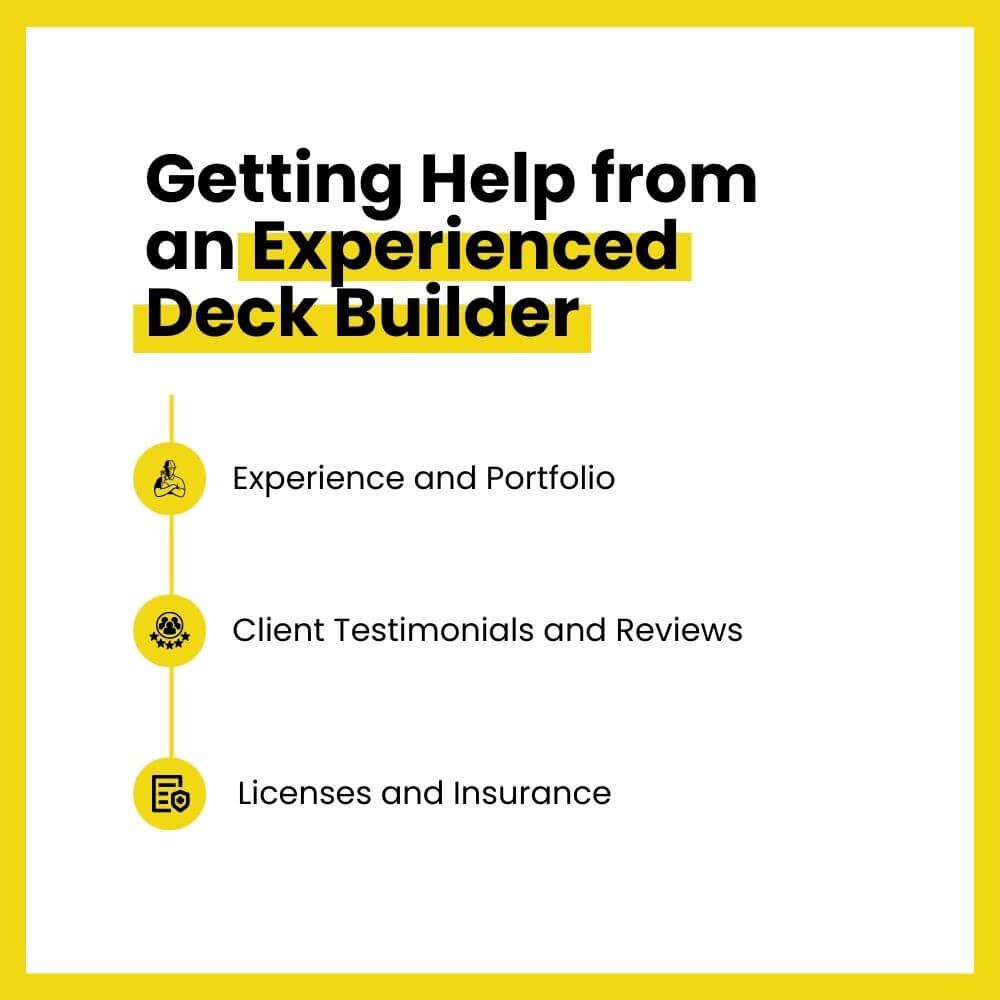 Getting Help from an Experienced Deck Builder
Partnering with a reputable deck builder is essential to bring your custom quality deck to life. Look out for these signs when choosing a company to work with:
Experience and Portfolio
Review the builder's portfolio to gauge their level of expertise and craftsmanship.
You can easily go to their website and check the projects they've done for past clients. Requesting to view an actual site is another way to evaluate their work.
Client Testimonials and Review
Client testimonials and online reviews are crucial when assessing a builder's reputation. Any negative feedback might be a red flag telling you to go with another company. 
Even more telling is how a company responds to negative feedback. Professional, prompt responses to less-than-stellar reviews show a contractor worth considering.
A track record of positive feedback indicates a reliable and trustworthy professional.
Licenses and Insurance
Ask your prospective deck builder if they hold the necessary licenses and insurance. 
This way, you can protect yourself from liability in case of accidents during the construction process.
Custom Quality Decks by Perimeter Remodeling
A custom-quality deck is a remarkable addition to any home. It elevates the outdoor living experience and provides a space for relaxation, entertainment, and creating cherished memories with loved ones. 
By carefully considering the key factors discussed in this guide and collaborating with a reputable deck builder, you can confidently embark on your custom deck project.
The result?
A visually stunning, functional, and long-lasting structure that complements your lifestyle and enhances your outdoor environment. 
If you're looking to add a custom-quality deck to your property, we're here to help. Contact us today for a free deck estimate and let our experienced team elevate your home's outdoor potential.