Every homeowner knows the potential that lies in a backyard. And bringing out the best often means working with a professional. 
In this guide, we'll explore how custom deck contractors can transform your backyard into a functional and relaxing outdoor space. 
From innovative design concepts to carefully selected materials, custom deck contractors have the expertise and creativity to bring your backyard deck to life.
Why Choose a Custom Deck Contractor?
There are plenty of options for creating your custom backyard deck. You can even choose to build it yourself. 
But while a DIY approach might appeal to the hands-on homeowner, it comes with its own set of challenges. 
Partnering with a professional eases the stress of construction and makes sure that every detail is crafted with precision.
Here's why hiring an expert deck contractor is a smarter choice: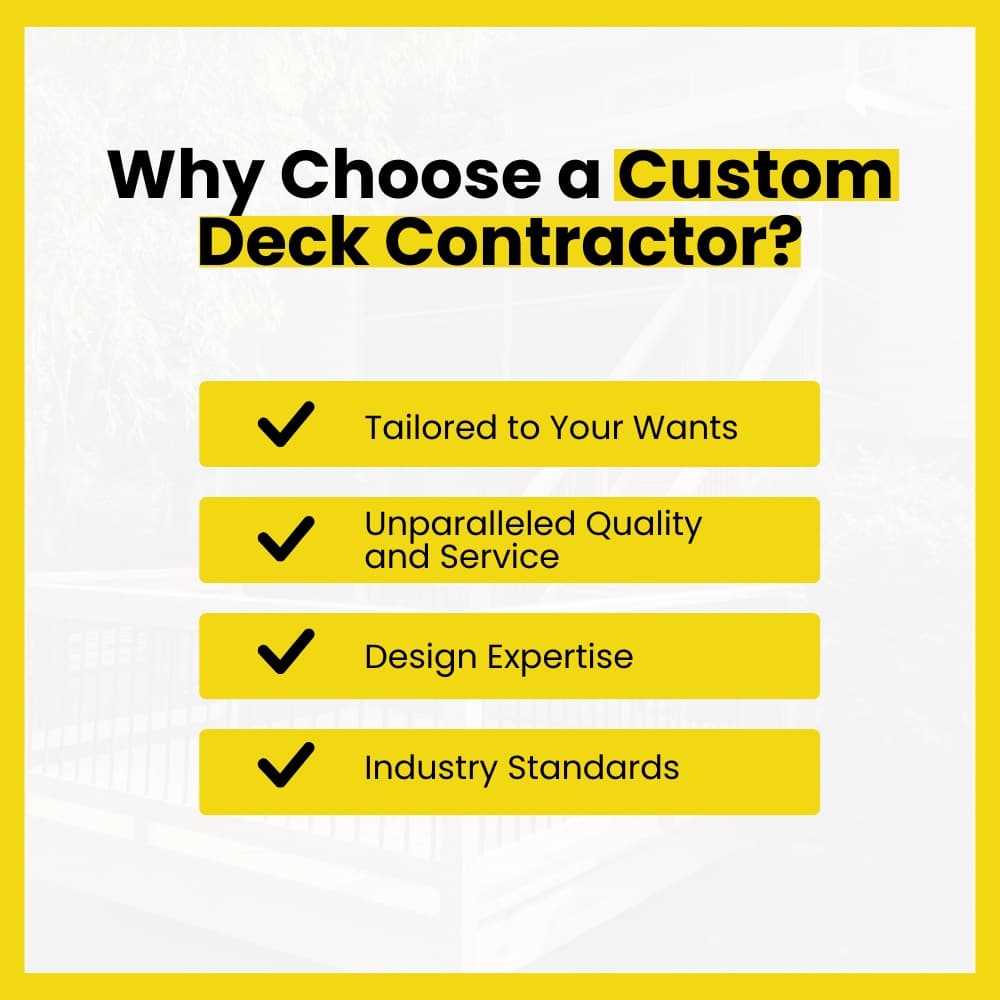 Tailored to Perfection
Unlike off-the-shelf deck solutions, custom deck contractors specialize in creating outdoor spaces tailored to your specific needs.
They consider every detail – from your choice of wood to the storage options you want installed. 
So whether you envision a sprawling multi-level deck for entertaining or a cozy hideaway for solitude, they can make it a reality.
Unparalleled Quality and Service
Custom deck contractors are artisans in their own right. They work with the highest quality materials and pay attention to every aspect of the project. 
This means choosing woods and composites that match your local climate. Or conducting regular check-ins and consultations at each stage of the construction process. 
Their commitment guarantees a durable deck that can withstand the test of time.
Design Expertise
Every backyard offers many possibilities for building a custom-quality deck. Reliable contractors will know how to maximize the size and space of your property.
They'll work with your backyard's architecture, landscaping, and natural surroundings. The result is a deck that feels like an organic part of your home.
Industry Standards
Professional deck contractors understand the importance of adhering to industry standards. For instance, deck builders in Atlanta will be familiar with the Georgia State Amendments to the International Residential Code (IRC).
This means they know the guidelines for building a safe and long-lasting deck.
They also stay updated on local county or city-specific building codes and obtain necessary permits. You can be sure that your project runs smoothly.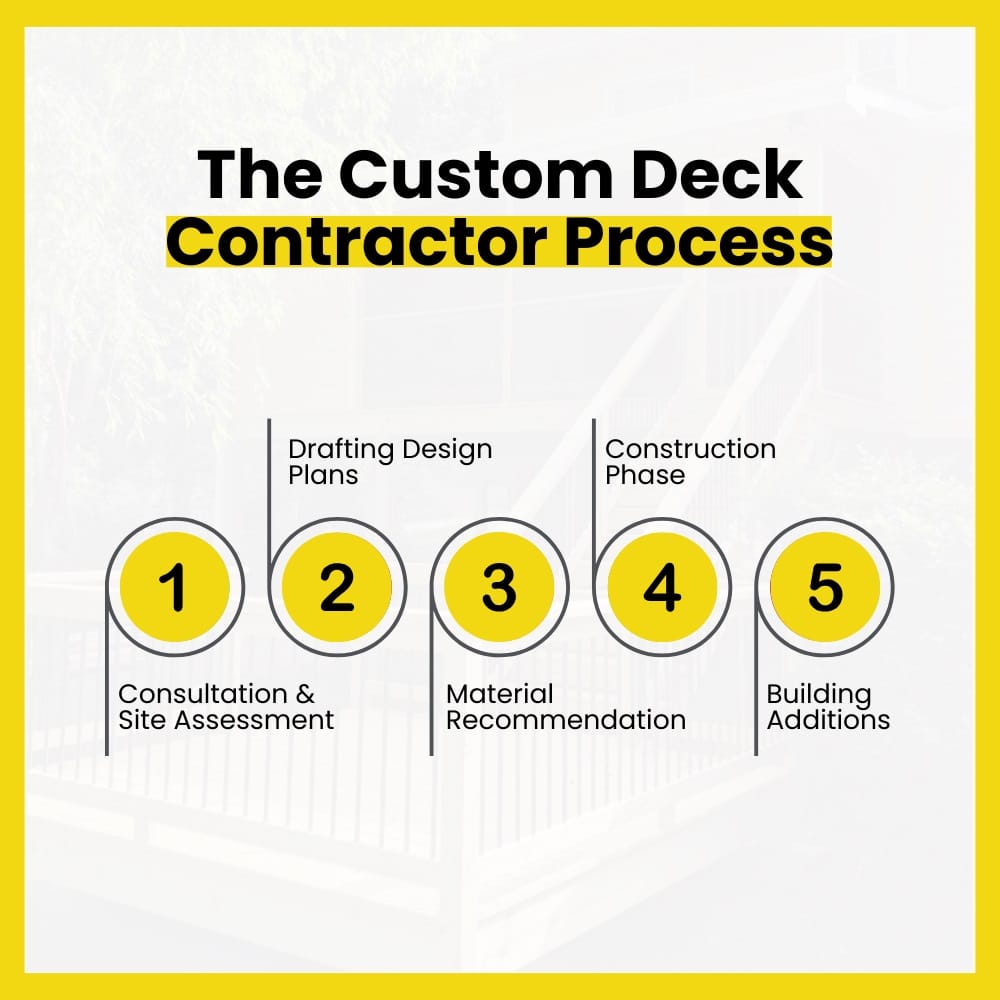 The Deck Contractor Process
Choosing a custom deck contractor means embracing a systematic approach. 
You can expect a series of steps to guide you and the contractor through the project – from planning to completion.
Consultation & Site Assessment
Every great deck starts with a conversation. 
During the consultation phase, your contractor will evaluate your backyard to better assess its condition, such as soil type, natural shading, and existing landscape elements. 
They'll also ask about your vision for the space, taking into account your lifestyle needs. This is the best time to mention your preferences for materials and features.
Some contractors also offer a free estimate of your project. You can use this to get a clearer picture of potential costs and ensure it aligns with your budget.
Drafting Design Plans
Leveraging their extensive knowledge, your custom deck contractor will create initial design sketches. They'll take note of factors like sun direction and the architectural style of your home. 
As they draft these plans, they'll also consider functional aspects such as ease of access, potential furniture placements, and flow of movement across the deck. 
Feedback loops are important during this phase. This gives you a chance to review and suggest modifications before starting construction.
Material Recommendation
Whether your preference leans towards cedar, composite, or any other material, the contractor will help you decide the best option.
For instance, in regions with high humidity or frequent rain, they might suggest materials resistant to warping and mold. 
In addition, your contractor will explain the long-term cost benefits of certain materials. This helps you make a well-informed decision since you'll need to maintain your deck.
Construction Phase
With the design blueprints and materials in place, your contractor will start on the deck construction. 
Throughout this phase, they'll often provide progress updates and make necessary adjustments based on unforeseen site conditions. 
You will be informed throughout the process, so any changes or additions will align with your vision and expectations.
Incorporating Additions
A great deck often has complementary features—like railings, steps, or built-in seating. These elements are integrated to enhance functionality and visual appeal. 
Beyond these basics, your contractor might suggest amenities like pergolas for shade, built-in planters for greenery, or even lighting solutions for nighttime ambiance. 
These additions can transform your deck from a simple outdoor space to a multifunctional area.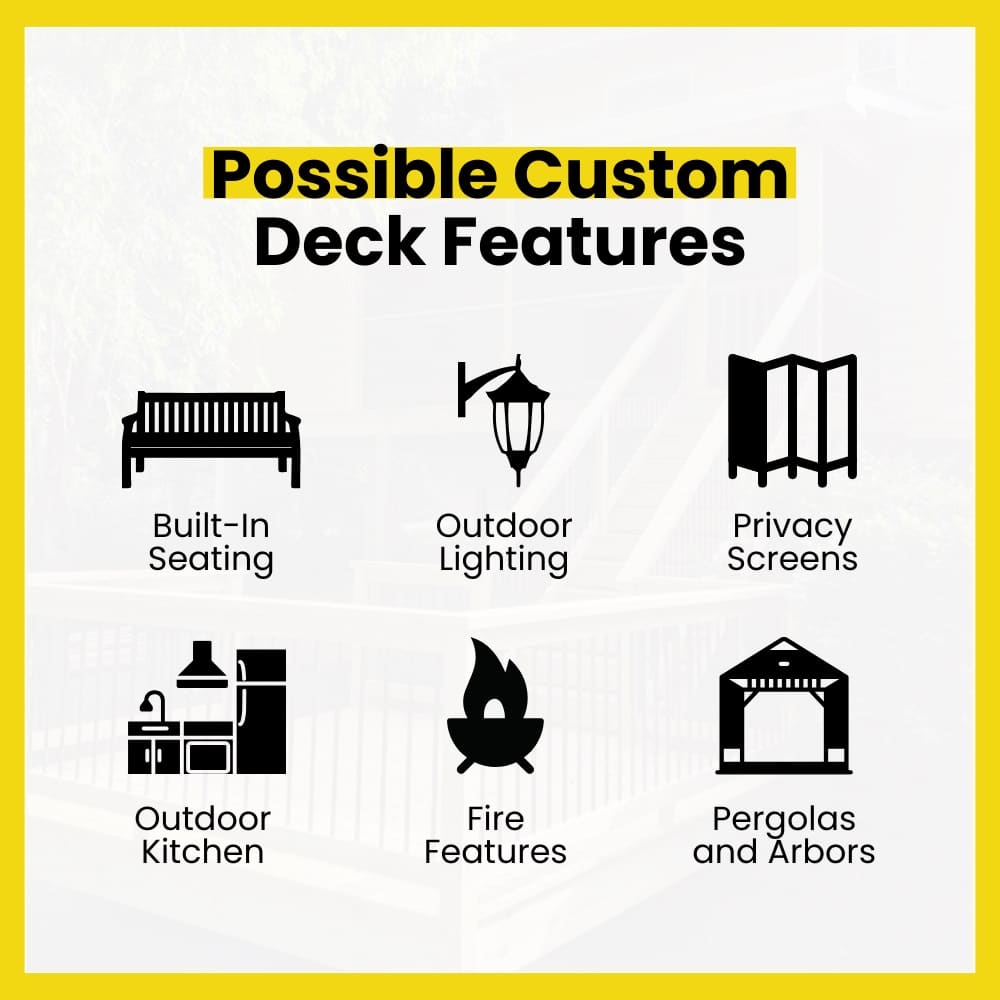 Custom Deck Features
There are many ways for you to decorate your deck. But it's easier when you have a contractor to help you select the right additions to your new space.
Built-In Seating
Built-in seating lets you maximize space without the need for bulky furniture. It creates a clean and organized look to your deck.
Plus, it's a convenient way to accommodate guests or simply relax and enjoy the outdoors.
Outdoor Lighting
Outdoor lighting not only adds visual interest to your deck but also ensures safety during nighttime. Strategically placed lights highlight your deck's features, set the mood, and prevent tripping hazards. 
You can choose from various options, like lanterns or in-floor LEDs.
Privacy Screens
Screens shield you from prying eyes and turn your outdoor space into a personal retreat. Made from materials like wood, metal, or even plants, these screens are both decorative and functional.
Outdoor Kitchen
An outdoor kitchen takes al fresco dining to the next level. It lets you prepare, cook, and serve meals on your deck. 
With features like grills, countertops, and even pizza ovens, an outdoor kitchen can become the focal point during gatherings.
Fire Features
Fire features, such as fire pits or outdoor fireplaces, provide warmth, ambiance, and a central gathering spot. They also extend the usability of your deck into colder seasons. 
Pergolas and Arbors
Pergolas and arbors can support climbing plants and turn your deck into a green oasis. During hot weather, they offer shade and protection from the sun's rays.
Plan Your Custom Deck with a Trusted Contractor
Crafting a deck is more than just construction. It's about realizing your vision for the perfect outdoor space. 
By working with a dedicated custom deck contractor, you ensure that every detail aligns with your vision.
Let us partner with you to create a deck that will be the envy of the neighborhood. Contact us at 770-333-8174 or message us to get your free estimate.