Are you considering enhancing your outdoor space with a beautiful new deck? 
If so, choosing the right deck installation service is a critical decision that can make or break your project.
You don't want to leave everything up to chance by hiring the first company you find. After all, investing in professionals leads to better results.
In this guide, we'll explore 5 key signs to look for when hiring a deck builder in your area. These indicators will help you ensure a smooth and successful project. 
What to Look for in a Deck Installation Service
Decks are a popular way to extend your living space outdoors. In fact, 50,000 single-family houses in the United States have decks! 
This impressive number reflects the growing demand among homeowners to have an outdoor area where they can relax, entertain guests, and enjoy the changing seasons.
But with such a widespread trend, it's important to know what you should expect from your deck installation service.
Experience and Expertise
Seasoned professionals have a deep understanding of the construction and home remodeling industry. 
When choosing a company to work with, look at their portfolios of completed projects. This helps you see the quality of their work firsthand and gauge their design versatility.
Another tip is to check customer reviews. Real-world endorsements offer valuable insights into the company's professionalism and support for its clients.
Customization Options
Whether you envision a spacious multi-level deck, a cozy platform for relaxation, or specialized features like benches or lighting, a service with ample customization options is more likely to bring your dream deck to life.
On top of that, they'll consider your space and budget limitations in the construction plan. For example:
If you're still choosing between wood or composite decking, your builder might recommend a wood deck if you want to save on costs. Composite decking is a great choice for longevity.
Your contractor will have deep knowledge of what customization options are available and can help you determine what features are the best fit for your desires and budget.
Transparent Communication
A reliable deck installation service provides clear, detailed information about project costs, timelines, and the overall plan. 
Look for a service that prioritizes open dialogue, as it fosters trust and helps you be fully aware of the process. Pay close attention to their responsiveness in their emails or phone calls. 
A builder's willingness to answer questions and provide timely updates can give you peace of mind that their service and quality are top-notch.
Licensing and Insurance
Having the right licenses and insurance shows the company's commitment and compliance with industry standards. 
Ideally, a deck installation service should possess a general contractor's license or a specialty license specific to deck construction. 
They should also have both general liability insurance, which covers any potential property damage, and workers' compensation insurance, which covers injuries that might occur on the job. 
Before moving forward with a company, always ask for proof of these credentials.
After-Sales Service and Warranty
Most deck installation companies understand that their job doesn't end once the deck is built. They stand behind their work by offering warranties and addressing any concerns you might have afterward.
If you encounter an unexpected issue like a loose railing or warped board a few months post-installation, a company with stellar after-sales support will promptly address the problem. 
This kind of commitment gives you peace of mind that you'll have ongoing deck maintenance and support.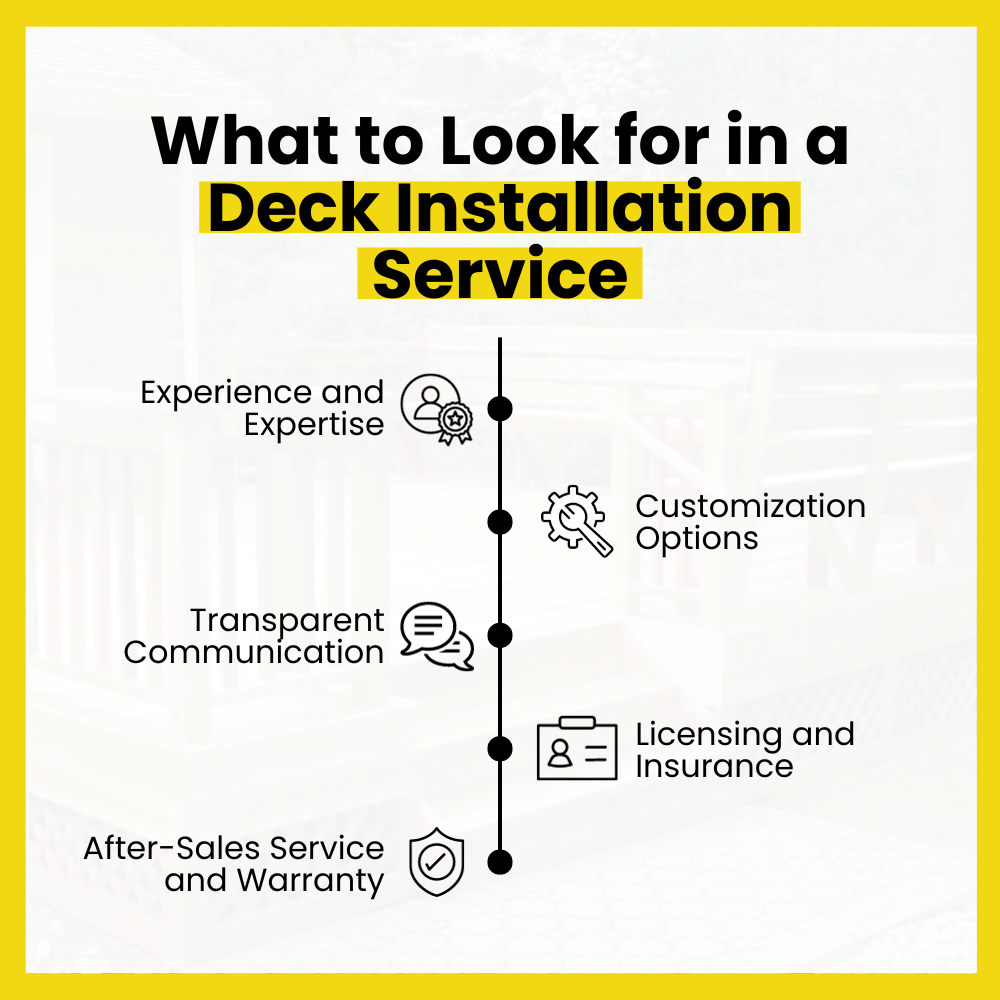 Why the Right Deck Installation Company Matters
Building an outdoor deck is an aesthetic, functional, and financial investment. So you want to make sure that you're getting the most out of what you pay for.
That said, here's why selecting the right deck installation company should be a priority:
Enhanced Property Value
Prospective buyers often see an attractive, durable deck as a valuable addition. This makes your property more desirable in a competitive real estate market.
In other words, a professionally installed deck yields a significant return on investment if you plan to sell your house in the future.
There are many other ways to improve your curb appeal on a budget. But if you have money set aside, adding an outdoor living space like a deck or custom sunroom is one of the best options. 
Safety and Durability
The structural integrity of a deck is non-negotiable. 
Proper installation by experienced professionals guarantees that your custom-quality deck is safe for everyday use and will stand the test of time. 
This is crucial given that a deck is exposed to varying weather conditions that can affect its lifespan.
Cost Efficiency
While it might be tempting to go with a cheaper, less-experienced service, the long-term costs of repairs, maintenance, and potential replacements can quickly add up. 
Investing in a reputable deck installation service may have a higher upfront cost. But it results in fewer expenses down the line due to their superior workmanship and materials.
Keep in mind, that good quality decks can last up to 30 years if they're built and maintained properly.
Harmonized Aesthetics
A deck shouldn't look like an afterthought. The right service will ensure that the design, color, and materials used harmonize with your home's architecture and decor. 
This seamless integration enhances the overall look of your property, making the deck a natural extension of your living space.
Peace of Mind
Some homeowners choose a DIY deck build thinking they can save money. But the time and resources required usually aren't worth the effort.
Building and installing a deck requires extensive knowledge of landscaping, engineering, and, carpentry.
There is immense peace in knowing that a significant addition to your property is handled by experts. 
A professional deck installation service takes the guesswork out of the process – from securing the right permits to sourcing quality materials and ensuring impeccable finishing touches.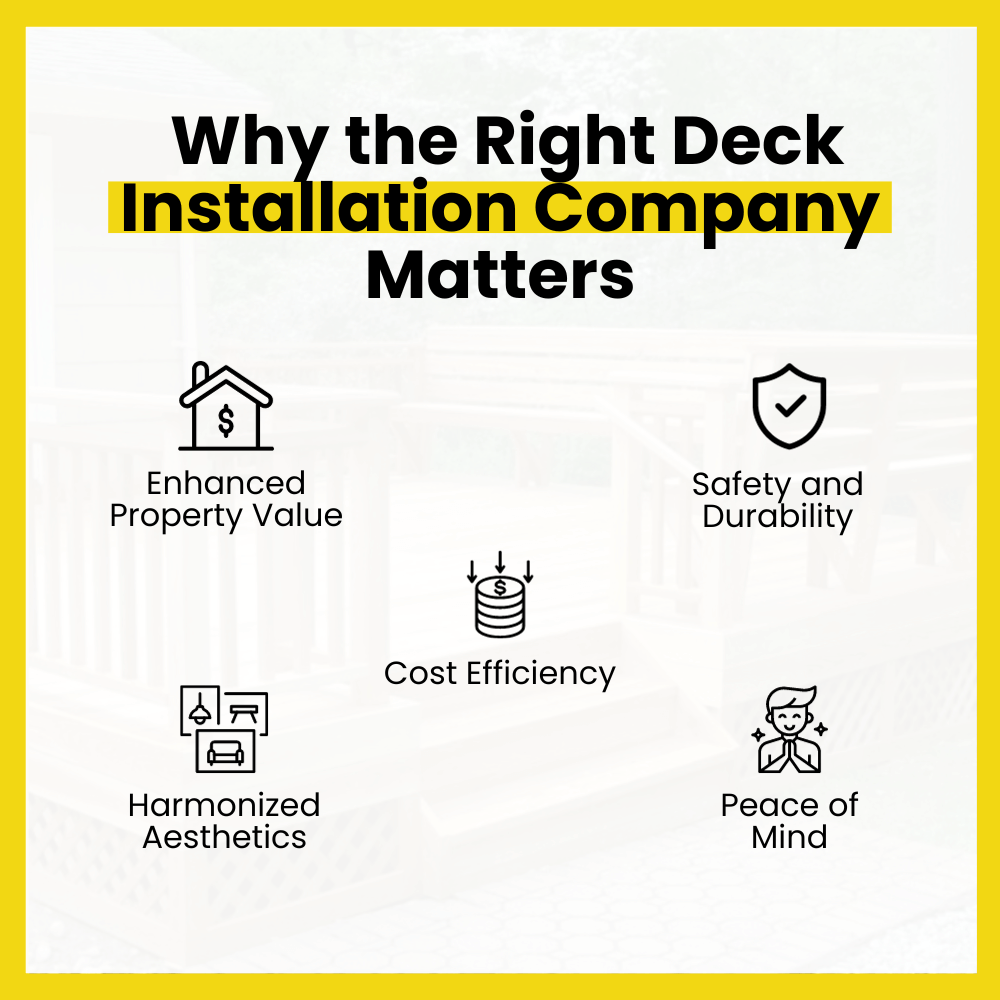 Deck Installation: Choose Wisely
By choosing a reputable, experienced deck installation company, you can ensure that your deck installation project runs without a hitch.
At Perimeter Remodelling, we tick all these boxes and more. 
Our team of skilled professionals is dedicated to providing top-notch deck installation services that transform your outdoor living space. 
If you're ready to take the next step toward your dream deck, contact us at 770-333-8174 or send us a message to get your free estimate.